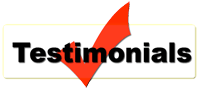 In addition to our testimonials, GeniusDV offers student profiles from graduates who have benefited from our training services. Here are a few recent testimonials.
Media Composer User Certification
Thanks again for all the help today.

You are a great instructor! You had an answer for every question I had while learning the software. I can't believe how patient you were with the ability to understand fully understand each part of the editing system. It was great to hear you talk about or show me real world examples of different edits in film and TV to help me conceptualize things easier. I could not have asked for a better instructor.
You gave me the skills I needed to create my first short film, which ended up winning an award for Best Experimental Film at the Austin Micro Shorts film festival.
Here is the link to my first short film, "Sleepy Time" which won Best Experimental Film at the Austin Micro Shorts film festival.
 https://vimeo.com/339473653
I would not have had this success without the instruction of John. I highly recommend anyone who is considering learning how to edit to go to John Lynn to receive the best training they could possibly get.
Thanks again, and I hope all is well in Florida! – Matthew Kain
Hands-On Certified Media Composer Training
An incredible 5 days of learning. The class went both wide and deep. John is the best kind of instructor — he not only has a profound understanding of the topic but he's able to make it understandable. His thoughtful approach to the material means he can approach a technique or concept from more than one angle to suit the needs of the class. Yes I passed the exams, but more importantly I think I became a better professional.
– Ron Vida Toronto, Canada
Special On-Site Consultation / Training for After FX
GeniusDV did a great job of b improving my documentaries
– Professor of Books – Edwin Osgood Grover – Rollings College
– Langford Resort hotel – Winter Park, FL
You can check out Ed Gefeller's Facebook page to see the results!
(Adobe Premiere – After Effects Training)
Orange County, FL Property Appraiser
Hey man, thanks again for a great training class. I really enjoyed it. I was always a little intimidated by After Effects and Premiere, but since the class I've been jumping into both as much as possible. I'm excited to continue building on what I learned to do more video and motion graphics work.
You asked me to share any examples of video work post-class, so thought I'd share a link to the OCPA Facebook page. First project I got was a whole series of short interviews with some of our Hispanic employees for Hispanic Heritage Month which you can see here: https://www.facebook.com/ocpafl
Nothing too fancy, but I was able to take advantage of the Adobe Premiere multi-cam sequence editing process, which helped make some pretty basic videos look much better than they would have if I had not known how to do that. They're still rough, but not bad for my first project.
I'll let you know if I have something more exciting to share later on, but you can check back on our Facebook page to see more videos in the near future. Now that higher-ups see we can do some video content they'll be pushing to do a lot more, from basic interview videos like these, to PSA's or instructional videos, and probably even more fun stuff (for me) like animated infographics, kinetic typography, promo videos, etc.
Anyway, check out the videos if you have a chance. And feel free to give any feedback/criticism. Disclaimer – I know the color correction/color grading on some of them isn't perfect. I found out it's tricky to match the same color look from 2 different cameras (I followed your advice on DSLR settings but other camera is an iPad, so not as much control over that one). Thanks, Kameron Sullivan
(Final Cut Pro X / Motion Training)
Mark Grove (US Dept of Defense, Fort Detrick)
I just returned from a week-long training class in Florida and I wanted to say 'thank you" once again for what I felt was probably the most beneficial and thorough training I have ever received in my 30+ year career in Video Production…. are amazing instructors and great guys…my brain hurt after a week long class in Final Cut Pro/Motion X and I was amazed at how much I thought I knew and how much I learned….a well organized and well delivered class…the small class size was focused and intense…..loved every minute of it all……well done guys!!!!….thanks…MG (Dept. of Defense Video Editor).
Marquis Wilson (Freelance Editor/Videographer, Dallas, TX)
Matt Stevens (Audio/Video Engineer, South Central Foundation, Anchorage, Alaska)
Roxy Hambleton (Video Biographer, Fort Myers, FL)
Dave Thompson (US Army Public Affairs, Houston, TX)
Greg Minet (Marketing Director, United Tel Com, Dodge City, KS)
Eduard Gfeller (Consultant, Winter Park, FL)
Benjamin Lowell (TV Production Instructor, Orlando, FL)
Mara Woosley (Multimedia Tech, Hodges University, Naples, FL)
Meredith Muse (TV Production Instructor, Kissimmee, FL) -I loved the program. Spending a week delving into AE and the creative suite showed me all the potential I have at my fingertips with this programs if I put in the work and make use of them!
Thanks for making it all work out John. I will be taking the motion class just have to see my upcoming schedule to make it work. Thank you again! – Sean
(SketchUp Pro Training)
Liz – Elizabeth Rand- (Cool CAD). I wanted to drop you a quick note to say how much I enjoyed my training last week with Katya. She is amazing! I've undergone a lot of different types of training during my 40-plus years of work-life – government, corporate, small business – and Katya is among the top three best trainers I've had the pleasure of working with. She's patient and encouraging and always made me feel I was up to the challenge (even when I wasn't so sure myself!). And she made it fun. This SketchUp training was worth every penny. It's going to make a big difference in the product I'm able to offer my clients. Warmest regards.
Bayada Home Health Care – Burlington, NJ: "The training was one of the best hands on training sessions I have attended. Alex Wales set me at ease and was very helpful in translating technical information into layman's terms. Alex made himself available before and after the sessions which spoke volumes – he took the time to sit with me after the session had ended to share additional features of Final Cut Pro. I would definitely recommend training from GeniusDV to others – especially under Alex's facilitation."I thought Alex was great. He had a relaxed and inviting way of facilitating. He was always open to questions and gave helpful and encouraging feedback. He was very knowledgeable but was able to deliver the information in a way we could all understand and apply." Overall, as a group we all agree that the training was excellent and we would recommend your company in the future to our colleagues and friends!"I was very satisfied with Alex from Genius DV Institute. He had a very relaxed and calm demeanor about him that made me feel comfortable. I never hesitated to ask him questions, even if I thought they were dumb. He created a safe atmosphere that allowed us to share our ideas with him and each other without the fear of looking stupid if something didn't work right. He had a perfect balance of hands-on learning and learning through watching him. This was by far one of the most effective training sessions I have had, and I believe Alex had a lot to do with that."
(On-Site Final Cut Pro X Training)
Lauren Adams, General Manager, KUCB Radio, Unalaska, Alaska: "After upgrading our production computers from PC to Apple we needed staff training on Final Cut Pro and GeniusDV came all the way out to the Aleutian Islands to work with UCB staff and volunteers. Our instructor was enthusiastic, patient with our myriad of questions, and a wealth of information."
(On-Site Final Cut Pro X Training)
Gentry Edwards, Lockheed Martin Aeronautics Multimedia Group, Marietta, GA: "The instructors were extremely knowledgeable about every facet of the Final Cut Pro suite and they did a great job of splitting up our group into different proficiency levels so that everyone got as much as possible out of the training."
Jefferson Moore, Kelly's Filmworks, Louisville, KY: "The 2-day learning experience was exactly what we needed, and our company will reap benefits from the training for years to come. There will be no hesitation in calling on GeniusDV for all our future training needs."
Teresa Clanton, Audiovisual Production, Bureau of Prisons, Aurora, Colorado: "We enjoyed the training we had with GeniusDV. Our instructor was very knowlegeable and willing to work with our schedule and specific needs. Out of all the courses I have taken, GeniusDV provided the best for our needs."
Jennifer Golden, Director of Public Affairs, Elliot School of International Affairs, George Washington University, Washington DC: "Our instructor was extremely informative and patient with a team of people who were completely new to video editing. He tailored the sessions to meet our needs and worked diligently to help us address our technical deficiencies."
Anna Davalos, Executive Producer, Energy Now, Clean Skies Network, Washington, DC: "GeniusDV explained everything in simple terms, answered questions without getting frustrated or upset, and left us feeling like we could edit anything. I'd recommend GeniusDV to anyone!"
Susan Lindenmuth, Public Relations Manager, Estero Fire & Rescue, Estero, Florida: "The training from GeniusDV was easy to understand and follow. The instructor took time to answer all of our questions and 'what if' scenarios. He was patient and we walked away not only having a better understanding of our own equipment but also the confidence to use it professionally and creatively"
Josh Casson, Director of Operations, Doulos Productions, Warner Robbins, Georgia: "We have tried many different training opportunities but none of them compare to GeniusDV. Our instructor had the best attitude to provide a very pleasureable and knowledge filled experience. He redesigned the class to fit our particular needs. We would recommend GeniusDV to anyone."
Kari Russell, Witchita, Kansas: "It was a huge advantage to be able to customize my training program according to my exact needs, and not waste time on processes I already knew or wouldn't have use for."
Frank Coccaro, Director of Media Productions, MGM Grand Hotel & Casino, Las Vegas, Nevada: "After more than a decade of using AVIDs, my staff was intimidated by the though of jumping into Final Cut Pro. Our instructor's teaching style helped the staff realize how intuitive FCP is. He was open to questions and always made sure they understood the topic before going on to another one. Because of his own AVID background, he explained answers to them in a way they could quickly relate."
Jake Rumanek, Project Coordinator, American Society of Radiologic Technologists, Albuquerque, New Mexico: "We learned a great deal in five days of training and the quality of our video productions in just a short time has improved dramatically and our videos have a more professional, cutting edge look to them that we couldn't have achieved without the help of GeniusDV."
Steve Warren, Coordinating Producer, Sports Time Ohio, Cleveland, Ohio: "GeniusDV was able to tailor a training syllabus that got the beginners up to speed quickly and taught the old dog some new tricks. Our instructor was great to work with and knowing that the answers to any new questions that pop up are just a phone call away really made our experience with GeniusDV worthwhile."
Jon Mendelsohn, MD FACS, Medical Director Advanced Cosmetic Surgery and Laser Center, Cincinnati, Ohio: "My instructor had a great deal of information to share with me, and I would highly recommend this training to others. They have also been great about recommendations and strategies for capturing content and archiving."
Tony Peist, Modern Video Productions, Philadelphia, Pennsylvania: "The knowledge I gained through your patience and expertise is invaluable."
Dr Leigh Browning, West Texas A&M University, Canyon, Texas: "Our instructor took the time to get to know us and our post production workflow. He skipped lessons that would have been a waste of our time and focused on teaching us a skillset that we could take with us and use to our benefit."
Brett Billings, Senior Field Producer, Video Production, US Fish & Wildlife Service, National Conservation Training Center, Shepherdstown, West Virginia: "Thanks to GeniusDV for giving us a 'made to order' 2 day session troubleshooting our problem areas. By tailoring the session to our budget, needs and timeframe, you made yourself indispensable."
Michael Weinman, Director of Media, Wyoming Football, Laramie, Wyoming: "Our training from GeniusDV incorporated tools and tricks that we continue to use everyday. The hands-on training and being able to ask questions made a difference in the way we learn. It helped us tremendously in our workflows and efficiency."
Matthew Bartoli, Valencia Community College, Orlando, Florida: "The training at GeniusDV made a huge improvement on the quality of my video as well as the speed of my workflow. I look forward to doing more training and am definitely recommending GeniusDV to my industry friends."
Marilyn Roder, Assistant to Technology Director, Tuscarwas-Carroll-Harrison ESC, New Philadelphia, Ohio: "The training at GeniusDV is one of the best I have been to. If we ever need more FCP training, GeniusDV will be the one we call."
Debbie Rein, Osceola High School, Clearwater, Florida: "My training at GeniusDV was awesome. I can't wait to share with my students everything I learned at Genius, they are the best!"
Benn Wyldeck, Australia: "The professional feedback and rapid response have been priceless to what I'm trying to achieve. I love your daily news snippets that you provide on your website. I check it every day and find it interesting and useful in my day to day routine."