Media Composer Fundamentals II class (MC110) is for video editors who have a rudimentary knowledge of editing in Media Composer, and are ready to broaden their foundational skills to take their editing to the next level.
This is an intermediate course, this course is designed to teach students the technical and organizational skills of an assistant editor and develop their editorial skills with the tools and techniques required to produce a well-edited video. From using dynamic trim techniques to shape the actor's performances in a dramatic scene, to quickly assembling a news package to meet deadline, this course empowers novice users to take their Media Composer skills to the next level. Class projects and exercises are hands-on, giving students the opportunity to work on a scripted short film and a promotional video.
This course provides a solid foundation in Media Composer video effects capabilities and in conjunction with the Media Composer Fundamentals I (MC101) course, will prepare you to earn the credential of Avid Certified User: Media Composer.

Course Length: 24 hours (flexible training schedule) – weekends, evenings, etc.
Recommended hrs per session: 3 hrs per day.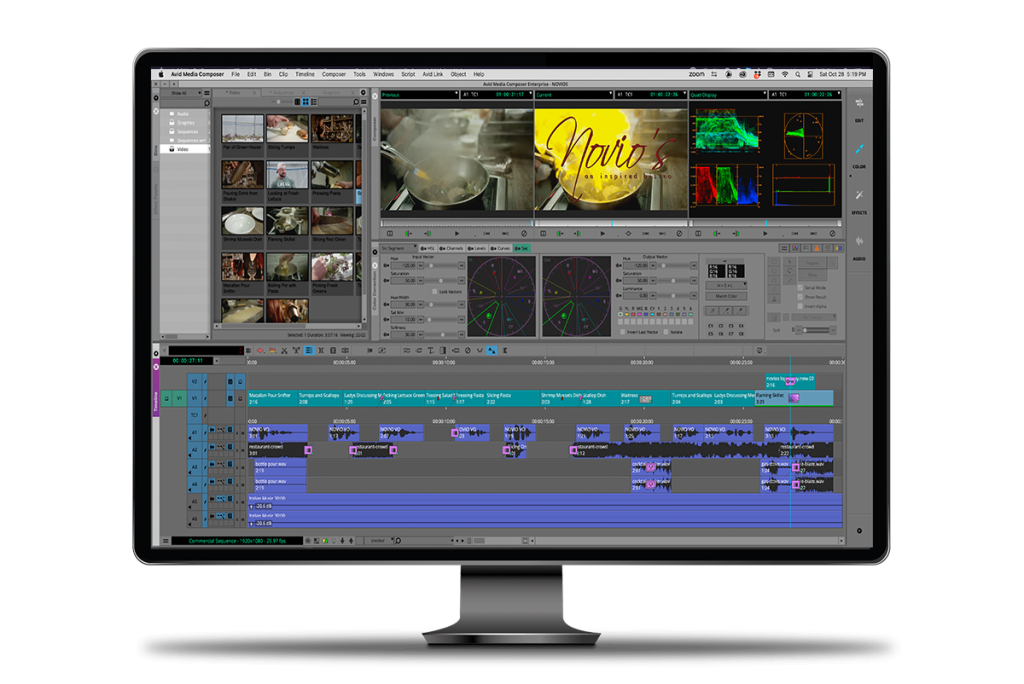 PRICING
We have self-study or LIVE One-on-One training Options.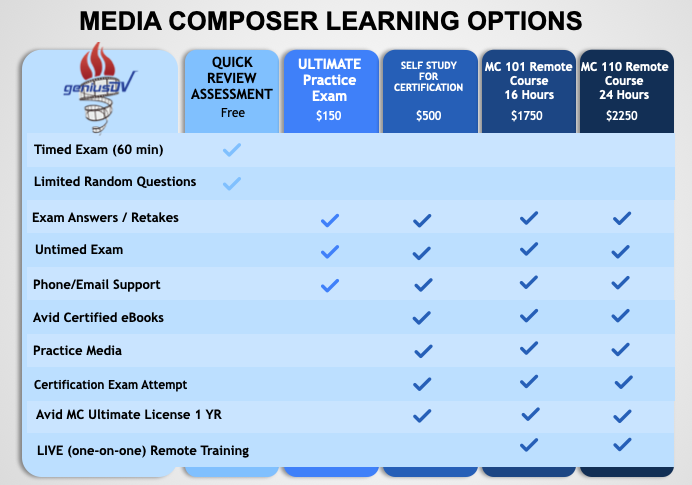 AUDIENCE
Producers
Editors
Assistant editors
Multimedia producers
Broadcast Engineers
PREQUISITES
OBJECTIVES
Create custom project sizes, including larger than HD (2K, 4K, etc)
Understand the operational implications of working in larger-than-HD projects
Link to media files and copy, consolidate or transcode the media, as needed
Synchronize video and audio from separate sources
Organize project bins using common industry conventions
Quickly assemble a scene using storyboard editing, plus Top, Tail and Extend
Use various search tools to locate a desired clip
Create multiple versions of a sequence to track the creative process
Utilize Media Composer's best-in-class trim tools to dynamically adjust the pacing of a scene
Adjust Clip Gain, and utilize Pan and Volume automation to create an integrated audio mix
Create pan-and-zoom style "camera" moves over still images or video
Solve common image problems with effects to stabilize the image, blur faces and logos, and erase unwanted jump cuts
Create freeze-frames, slow-motion and TimeWarp effects
Use multilayer effects to create split-screens, superimposed images, and more
Composite video elements using the SpectraMatte effect to create a chroma-key
Intelligently render effects sequences to improve playback performance
Selectively delete unwanted render files to keep the media drives clutter-free
Understand how to correctly backup project files and associated media files
Restore lost work using Avid's autosave feature
Relink media files
Resolve common technical issues, including "Media Offline"
Identify and adjust common Settings to increase efficiency and avoid complications
Output the finished program according to common broadcast delivery standards
Be ready to sit the associated certification exam