Avid's official training consists of a comprehensive curriculum that helps you become proficient in operating in a fast-paced professional environment and opens the door to unmatched creative and career opportunities. You will work towards certification as an Avid Media Composer Certified Specialist, or Expert by taking certified courses to build a particular skill or brush up on your overall expertise.
Whatever path you choose, you'll gain industry-recognized skills, connect with peers who share similar interests and abilities, join a community of audio and media editors and personnel, and expand your personal and professional network. Take the first step toward becoming an Avid Certified professional by taking a certified course.
PRICING
We have self-study or LIVE One-on-One training Options.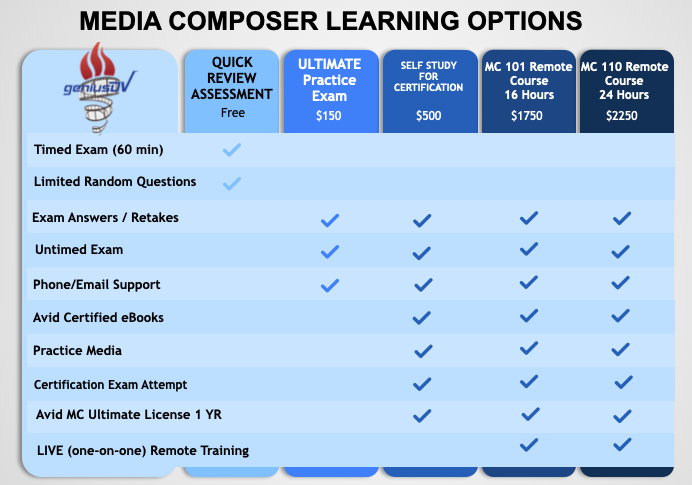 CERTIFIED SPECIALIST
Becoming an Avid Certified Specialist for Media Composer verifies that you possess a fundamental understanding of and the capability to use the software with a firm grasp of the core skills, workflows, and concepts of non-linear editing.

While Avid does not certify the creative skills of the individual, the technical and operational skillset developed through this certification program is designed to qualify individuals to enter the workforce as post-production assistants, assistant editors, or video editors.
To gain the title of Avid Certified Specialist for Media Composer, you must take two foundational courses:

– Media Composer Fundamentals I (MC101)
– Media Composer Fundamentals II (MC110)

Then, after passing a certification exam, you will become an Avid Certified Specialist in Media Composer.
PROGRAM BENEFITS
Demonstrate your user skills and that you have a firm grasp of the core skills, workflows, and concepts of non-linear editing on the Avid Media Composer system
Provide measurable benefits to your employer
Increase visibility of your skills with peers, clients & future employers
Make your résumé stand out and leverage the power of the Avid brand with downloadable Avid Certified User logos
Embed your badge into your website, tag your your email signature, and use it for business cards, etc.
Gain recognition from your employer and peers with our online Certified Professional listing
Add credibility to your achievement through secure & verified platform
Easily manage & share your certification online
Share your certified digital badge on LinkedIn, Twitter, Facebook and Zip Recruiter.
Access relevant job listings directly from your digital credential
Badges and digital credentials were made available for the following certification types earned after January 1, 2021
PLEASE read the following requirements before purchasing.
COURSE SCHEDULES
Most dates and times are available.
Typical schedule is taught in (3) hour blocks.
Evenings and weekends are also available.
MC 101 (16 hours) + exercise time
MC 110 (24 hours) + exercise time
Avid Media Composer Course Overview
MC 101 – MC 110
Avid Media Composer Fundamentals 1 (16 hours) + exercise time
Avid Media Composer Fundamentals 2 (24 hours) + exercise time
Avid Fundamentals 1 (MC 101) – 16 hours
This is the first step in achieving confidence, creativity, and efficiency with Avid Media Composer. This course provides the initial foundation for Media Composer Certification a Certified Specialist.

This course will get you editing today with a built-in Quick Start guide covering the essential tools you need to start a basic project, assemble the story, and output to web — perfect for producers, journalists and corporate videographers. For those headed toward a career in post production, the second half of the course builds on the critical aspects of editing for news, documentary, commercial spots, and scripted narrative films.

Within first day of class, will learn how the Avid software thinks. This includes learning the Avid's project hierarchy and how clips and sequences link back to raw media files. You will learn why the Avid's proprietary media file system offers a huge advantage over other non-linear editing systems.
Learn by doing with real-world projects. Start with the basics of 3-point editing and how to construct a sequence. Then move on to reworking scenes and trimming dialogue. Learn critical skills needed to work as an editor, including how to sync picture and sound from different sources, organize a project, manage media and metadata. Learn the tools and techniques to mix music and sound effects, create titles and transitions. Then deliver the program to specifications.
Introduction to Media Composer
Organizing a Project and Adjusting User Settings
Importing Media and Preparing to Edit
Building a Basic Sequence
Drag and Drop Editing
Refining a Sequence
Mixing Audio Levels
Using Transition Effects
Using Segment Effects
Combining Multiple Effects – Nesting
Freeze Frames and Slow Motion Effect
Chroma Key Effects
Creating Titles
Exporting Video
Technical Fundamentals
Learn how to work with synced dialog. This is an extremely important editing skill. You will get the opportunity to edit a REAL syndicated television show. We will show you the secrets to keeping your sequence(s) in sync. You will learn how to trim and create split edits that will help improve the flow of your edited project. We will show you how sync-locks work, and why they are important. You will also learn how to recover from a sequence that is out of sync and how to repair it.
After you complete this section of the class, you will discover how locators work and how they can be used to your advantage. You will learn how segment mode works, and why it is different from three-point editing. We will cover some advanced trimming techniques including slipping and sliding segments.
The Avid software provides several ways to work with audio elements. You will learn how to adjust audio levels using the audio mix tool. You will also have time to experiment using the audio rubber band method of adjusting audio levels. Then you will have time to explore how the automation gain tool works. Learn how to add additional audio filters and effects to spice up your mix.
We will cover all of the functions available within the Avid Title tool, including how to create drop shadows, glows, and special effects using type. You'll also learn how to create specialized templates and style sheets that will help give your project a consistent look.
Avid Fundamentals 2 (MC 110) – 24 hours
This is where you will learn the critical fundamentals of creating effects. Learn how to create custom transition effects that are easily accessible from the Avid interface.
You will learn how to work with multiple video layers. We'll teach you how to create complex motion paths by creating templates.
You will learn how to use video filters. This includes learning about color correction, masks, paint, and the tracking system.
Fundamentals and Beyond – Going Beyond HD – 4K
Advanced Organizational Techniques
Advanced Editing – Quick Editing Tools
Trimming Dialog
Advanced Audio Mixing and Filters
Working with High Resolution Images
Color Correction
Advanced Re-timing Effects – Slow motion
Tracking and Blurring Objects
Creating Multi-Layer Effects
Advanced Nesting
Chroma Key Effects
Animated Titles and Graphics
Managing Project Media
Output and Review
Exam Process (Rules)
– Exam is offered online through Zoom.
– Exam is be proctored and timed – 1 hour to complete
– You may not use the software or notes during the official exam
– 80 percent is required to pass.
Other Courses (Become an Avid Certified Expert)