Elie Mosseri is the owner of Mosseri Enterprises, Inc. He is the CEO of a video production company that handles all aspects of the video industry; from editing and producing to software training and production courses. His clients include independents companies such as: Jewish Vocational Services and Oakland Audiology. Elie has also worked with large corporations and various broadcast stations including: Palace Sports and Entertainment, U of M Press, Ford, GM, WDIV and PBS.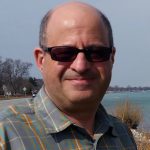 Elie has extensive teaching experience as a certified trainer for Avid Media Composer, Adobe Premier CC and Final Cut Pro/FCPX. His background as a Digital Media Arts instructor include teaching and training at Washtenaw Community College, Perdue University, City of Detroit, Joel Olsteen Ministries and WJRT TV in Flint.
His diverse skills and background gives him the ability to communicate effectively with students and utilize a variety of instructional strategies to engage students. He can leverage adult education techniques to simplify complex multimedia tools to help students understand components to the point of proficiency.
Elie's expertise in the area video editing, producing and directing gives him the ability to stay current on trends in video production, broadcast and industry standards. He has a strong attention for detail and a commitment to delivering high quality results. As an award winning editor Elie has exceptional skills in all aspects of video production; including adapting video for online, multimedia and social media. His background includes producing and directing include multi camera live shoots and corporate events. Elie's time management and workflow skills make him an a exceptional video professional.