If you are running Avid Media Composer and/or Adobe Premiere and you are missing the Pro-Res Export options within Mac OS X.  There is a fix!
Download the new Pro Video Formats from Apple.com
http://support.apple.com/downloads/DL1898/en_US/provideoformats.dmg
Reboot the computer in safe mode by holding down the shift key immediately after you reboot the computer.
Waiting for the operating system to load in 'safe mode'
Then double click on provideoformats.dmg to install.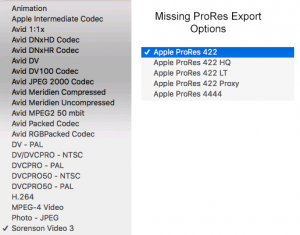 Special thanks to Ed Gfeller for all his research for this information. You can reach out to Ed by checking out his last two documentaries:
Grover Professor of Books
The Langford Resort Hotel Winter Park, FL