ScreenFlow Training Course

ScreenFlow is a video editing software product made by Telestream. ScreenFlow provides specialized features for screen-recording or producing 'screencasts'.
GeniusDV provides everything you will need to create the perfect screencast. ScreenFlow has also evolved into a full featured video editing suite.
In addition to video editing capabilities, ScreenFlow provides a variety of unique features that are specific to producing high quality screen recordings. There is no other product on the market that provides the necessary tools for creating an entire training video all within one software package.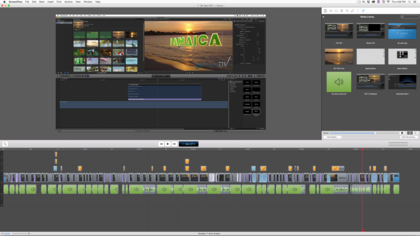 To give you an idea of what's possible, GeniusDV has produced almost 300 video's that have been completely edited in Screenflow.
*This course is also availble for on-site training. One Price for unlimited individuals.
What are benefits of using ScreenFlow:
You can record your computer's desktop, a video camera, microphone and computer's audio all at the same time.
Full screen capture 'even retina displays' which is optimized for the most efficient screen capture quality.
It has an intuitive professional non-linear editing interface.
Full range of elegant 2D and 3D transitions
Publish directly to QT Movie, YouTube, Vimeo, etc.
Optimized to take advantage of latest Mac OS X productivity enhancements.
Who will benefit from this class:
Educators who provide software training. (i.e, Microsoft Excel, Adobe Photoshop, Cinema 4D, etc.)
iPhone Developers, Video Game Enthusiasts who have a need to provide instruction or training of their application
Universities who have a need to develop online courses on specific software
Marketers who have a need to create hi-end promotional videos
Professional videographers who require an affordable full featured video editing system
Course Schedule: (flexible)
– Most dates and times are available.
– Typical schedule is M-F (9am – 5pm)
– Evenings and weekends are also available.
Options for learning ScreenFlow include:
On-Site Training (we will travel to your business / location)
Classroom Training (hands-on environment)
ScreenFlow Course Details
What you will learn in this Course:
This class primarily focuses on using ScreenFlow for producing software training videos. However, many of the topics covered are related to using ScreenFlow as a full featured video editor.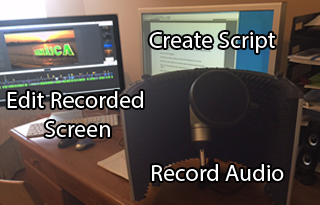 Day 1: Focuses on the critical fundamentals of the ScreenFlow Interface. You will write a script, record voice-over audio, record video content, and ingest additional video content. You will also learn how to record content from an iOS device. You will master all the aspects of video and audio editing all within the Screenflow interface.
Day 2: Master working with video properties and specialized actions. Add special effects, and learn how to use green screen. Learn to manage your unused media. You will prepare and export your final product to YouTube, and/or your favorite platform of choice.
ScreenFlow Training Options

Remote Online Training (instructor controls your computer from home or work)
Classroom Training in Orlando, FL. Our organized ScreenFlow class is a great choice for individuals. Whether you're a seasoned editor or just starting out, our classes average only 4 students, so your instructor will be able to keep you challenged with highly personalized attention.
OnSite Nationwide Training at your studio. If you have 3 or more people needing training, it may be cost-effective to bring our consultants to you. We can customize the training to your needs, which means we can move faster and go deeper into the topics and techniques that are relevant to your workflow. Plus, we can consult you on how to structure your specific workflow to make the fullest use of the Creative Cloud tools. We can train at your location or we can host your custom class at our Orlando training facility.
Course Guideline for ScreenFlow
Introduction to ScreenFlow Interface

Editing Window
Timeline Area
Properties Window

Critical Preferences
Gathering Materials
Preparing a Script
Screen Recording Process
Ingesting Additional Content into Media Library
Editing

Trimming Clips
Motion Effects (speed control – freeze frames)

Working with Audio

Audio Levels
Noise Reduction
Audio Filters

Adding Segment Labels
Keyboard Editing Shortcuts
Video Properties and Actions
Screen Recording Properties

Mouse Pointer Enlargement
Activating Sound Clicks
Displaying Keystrokes

Using Snap Back Actions
Call Out Properties

Mouse Cursor Callouts
Freehand Callouts

Creating Template Actions
Annotations
Adding Text
Nesting Clip Segments
Recording Apple iOS Devices (iPad, iPhone)
Using Touch Callouts
Utilizing Green Screen
Managing Media – Deleting Unused Media
Exporting Project

Custom Movie File
Publishing to online Platform (i.e, YouTube, DropBox, Facebook)

Using ScreenFlow with Microsoft Windows via Virtual Machine