GeniusDV is also proud to have these instructors.
Producer, Editor, Director, Designer, Videographer and Teacher; Mickey Hough has garnished an impressive skill set in the field of Emerging Media. Mickey began his career as a producer and editor of the Angler's Experience fishing show in 2002.

Mickey currently works as a master editor and After Effects compositor for Discovery Channel Motor sports.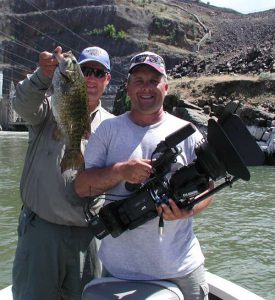 Serving as the Producer for Angler's Experience until 2008, he amassed a total of 312 episodes to air. Mickey has held certifications in Avid for more than a dozen years. In 2003 he become an Avid Certified Instructor (ACI). Mickey has taught editing and motion graphics classes since 2006 with Genius DV.

Clients come from across the United States and include entities like Disney, the United States Military, broadcast networks, Hollywood film studios and independent producers. In 2008 Mickey was the founding owner for Genius ProWorks and started producing The Working Man's Retriever television program and DVD series. This includes and extensive dog training DVD series with more than 30 hours of content spread across 5 volume series.
In 2009 Mickey migrated all editing to Final Cut 7 for editing and continued to utilize After Effects, Photoshop, Encore, Encoder, DVD Studio Pro and InDesign to be a complete one stop shop for The Working Man's Retriever and all his corporate and commercial clients. In 2011 Adobe Premiere Pro was chosen as the new video editing application for the studio to integrate many of the new feature sets to streamline workflow.
Mickey utilized the entire Adobe Creative Suite to produce two seasons of The Working Man's Retriever television show. Mickey now continues to produce television shows, national commercials, and teach production/editing applications all over the United States.
Mickey is highly sought after for his teaching skills and his ability to bring real-world examples to the classroom. The complicated world of video effects editing can often intimidate the student. Mickey is the instructor that makes every student think they can do anything. Mickey Hough is on the cutting edge of production, and is passionate about sharing his knowledge with budding producers.