Founded in November of 2000, GeniusDV has created an elite luxurious training environment that provides state-of-the-art, hands-on training for all of the popular video editing software packages.
GeniusDV, LLC
866-566-1881
Please note: In order for us to reply properly, please be specific on what training services you are interested in.  Generic inquiries may not receive a reply.
[contact-form-7 404 "Not Found"]
GeniusDV teaches to the current industry trends. That means that we teach outside the book and customize our classes to each individual or company's needs. GeniusDV keeps class sizes to a minimum to ensure that we can give each student extensive individual attention.
Enrollment ranges from 1 – 4 students
We do NOT cancel courses with only 1 individual.
We teach from 'outside' the book.
Support does not expire
GeniusDV only uses 'professional contractors'. They are NOT programmed staff instructors.
GeniusDV maintains two private offices to maintain the highest quality of hands-on instruction.  We are located near the Universal Studios area of Orlando, FL.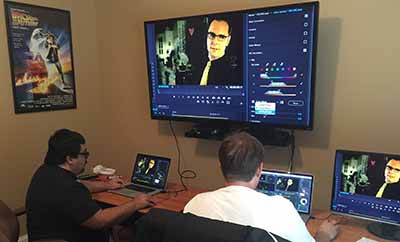 We offer the following methods for training:
Classroom Training (Orlando, FL) – per person fee
Live Remote Online 'on-on-one' customized training – flat fee
On-Site Training (Nationwide) – flat fee – unlimited students