Adobe Creative Web Design Training
Adobe's Creative Suite includes industry-standard tools for design creatives in the video, print, and web industries. With its new Creative Cloud, Adobe has blurred the lines between those specialties even further by bringing all of its video, print, and web design software to everyone. Broaden your creative capabilities with our Adobe CC Design training, which covers Illustrator and Photoshop.
Does your video production firm want to expand to offer your clients print ads and brochures? Do you want more control over the design and layout of your PDF assets? Pick the right Adobe tool for the design job at hand. Our crash course in Adobe's CC design tools is for you.

Students will benefit if you have prior experience with Adobe Creative Cloud software. Our course starts from the critical fundamentals and is suitable for fast-learning beginners.
We offer this intensive this course 'on-site' at your location, or at our classroom in Orlando, FL. Please call us to co-ordinate a schedule that fits your needs.
As with all GeniusDV courses, our fast-paced, personalized classes have limited enrollment, and tuition includes courseware, a certificate, free retakes, and free ongoing phone / email support.
Adobe Web Training Class (9am-5pm)
or call for Remote Online Training
M

T
W
TH
FR

Photoshop and
Muse ($1350)
Illustrator ($895)
Adobe CC Design Web Bundle ($1950)
Mar
----
5-9
----
19-23
26-30
Apr
2-6
----
----
23-27
----
May
----
7-11
14-18
21-25
----
Jun
----
4-8
11-15
18-22
25-29
For groups of 2 or more, call for addtional course dates
Below is a sample of customers who have use Adobe Muse to build their website.
Santizo Media Solutions
TeleDEPOT
ASAP Prints
BERG Premiere Camp Solutions
Eagle Athletics
Wandermere Pointing Labradors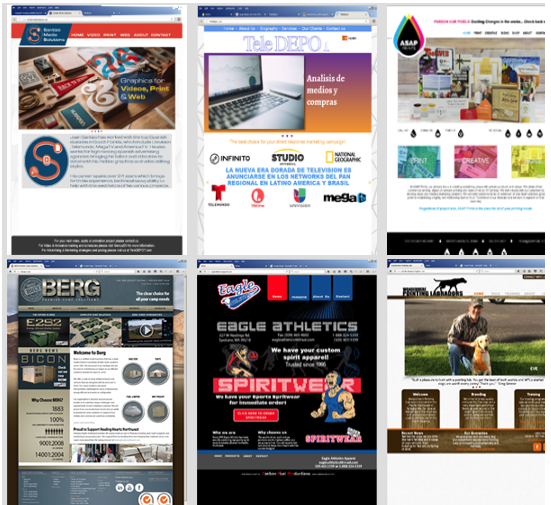 For groups of 2 or more, call for additional course dates.
Day 1: Illustrator
Process overview: What kind of work are Photoshop and Illustrator good for? We'll review the technical standards, color spaces, and use cases that would guide you to one piece of software over another.
The Adobe interface standards: Maximize your efficiency by using Adobe's standard interface features, which are similar across all Adobe Creative Suite software.
Setting up an Illustrator project: Navigating the Canvas, setting up your document and Art Boards, using basic drawing tools, and understanding Illustrator's layer/group/object model.
Shapes: Create and modify basic shape contours, and use the Pen and Pencil tools to create highly detailed custom shapes.
Color: Use the Eyedropper and Color Picker to select colors, create Swatch sets, browse sets of color harmonies to quickly develop attractive palettes, and create gradient fills.
Transforming objects: Adjust copies of shapes to create visual interest, use Blends to create repeating and evolving patterns, and use Perspective mode to arrange objects with 3D-like distortion using the rules of perspective.
Typography: Illustrator offers extremely detailed control over the text elements in your project. Use and customize existing fonts, convert them to outlines, adjust glyphs' contours, and prepare typefaces for printing.
Tracing photos and drawings: Use the Live Trace and Live Paint modes to create versatile vector versions of raster images like

JPEG

s and scans of existing logos.
Effects and Path operations: Advanced techniques to create complex paths, add visual effects and styles to your shapes, and solve tricky technical gotchas that may affect your Illustrator objects.
Recap: Save and export your Illustrator files and prepare them for use in other projects.
Day 2: Photoshop
Preparing visual assets for Photoshop: Organize and import your photographic elements for editing in Photoshop. Correct for lens deficiencies, re-expose images that were shot in Camera

RAW,

and create

HDR

images.
Making Selections: Use the Magic Wand, Quick Selection Tool, and Marquee Tools to designate specific parts of the photo to edit.
Brush and Clone Stamp tools: These tools paint colors, textures, and effects onto a Photoshop layer. They can range from subtle airbrushing textures to distressed looks and complex patterns. The Clone Stamp tool and the Background Eraser tool make it easy to remove unwanted elements from a layer, and the Healing Brush tools instantly remove blemishes from a subject's skin or foreground texture.
Masking: Use Image Masks and Vector Masks to selectively show or hide portions of a layer, even using your Brush tools for pixel-perfect selections. Combine layers and groups subtly.
Adjustment Layers and Clipping Masks: Exert detailed control over a layer's color, exposure, or technical characteristics. For example, you might selectively saturate or de-saturate portions of a layer, affect the brightness or color tint of a layer, or simulate a camera gel.
Layer Styles, Blend Modes, and Filters: Create more obvious visual effects, like bevels and pencil sketch looks. Combine layer styles and filters to add polish and consistency across the many layers that may form a typical Photoshop composite.
The Nondestructive Workflow: Smart Objects, Smart Filters, and advanced masking techniques maximize your flexibility as you build complex multi-layer Photoshop composites.
Requirements:
– A Domain (www.yoursite.com) costs roughly $15.00 per year
– A Basic Website Hosting Provider starts at roughly $10.00 a month
– An active Adobe Creative Cloud Membership costs $50.00 a month
* If you do not already have an active website domain or web-host, we will configure these services for you. For most individuals, we recommend that you use Adobe Business Catalyst as your web-host.
Day 3: Muse Training
Adobe Muse CC Interface
Plan, Design and Preview Modes
Planning out the basic structure of the website
Creating Navigation Pages
Working with the 960 Grid System
Creating Menus and Changing Menu States
Adding Objects
Adding Object Effects – Impact on Web Visibility
Adding anchor links
Creating Rollover buttons
Difference between coding and Designing
Day 4: Muse Training
Working with Imported Graphics
Round-trip editing with Photoshop
Using Illustrator to create images for web (SVGs)
Using TypeKit, web and Image Fonts
Setting up Background Images
Creating and Formatting Customized Objects
Adding Design Elements and Text throughout the site
Website Compatible Fonts and Glyphs
Parallax Scrolling
Setting up In-Browser Editing
Creating Slideshows and Lightbox
Creating Compositions
Adding Effects, stroke and fills
Day 5: Muse
Using Widgets
Creating Contact Forms
Adding Calendar of events
Adding Paypal and Paypal Shopping Carts
Building Panels and Forms
Creating Tooltips
Using Basic HTML
Embedding YouTube Video
Integration with Google Maps
Adding Mobile Version(s) of Site
Site Analytics
Acquiring Domain name and Website Host
Linking Domain with host and uploading site (FTP)
LAUNCH your website!